7 Ideas of What to Do With Old Trophies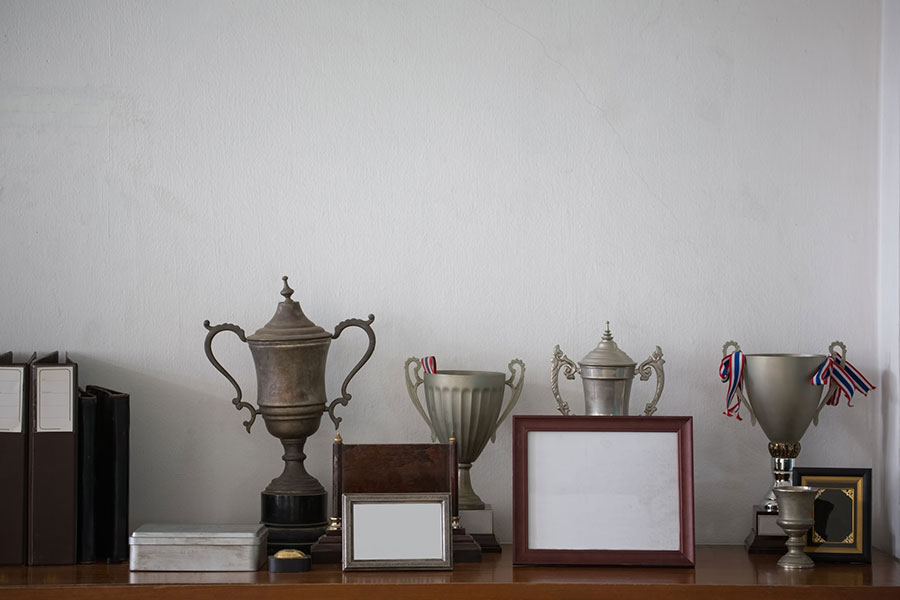 Nothing beats the feeling of holding a trophy and celebrating your win!
But after winning a trophy, where can you display it? Tom Hanks keeps his awards on the family trophy shelf, whereas Kate Winslet keeps her Oscar in the bathroom!
But while the memories of your achievement may last a lifetime, after a while, dust may start to gather on your trophies. Instead of keeping them tucked away in the bathroom, or worse throwing them away, repurpose trophies and display them in style.
Read these 7 cool tips on what to do with old trophies, and let the glory live on. Are you ready? Let's win this thing!
1. Grab Your Coat
Repurpose trophies by turning them into a unique coat rack. All you need is a simple wooden plank. Screw your trophy figurines onto it and you've got yourself a one of a kind place to hang your coats.
2. Floral Winnings
Repurpose trophies that look like a giant cup as a flower vase. Just add water and some fresh flowers for a quick makeover. If they're antique trophies, they would look stunning as centrepieces for a vintage wedding.
3. Modern Art
If you want to display your old trophies but they look dated against your modern decor, there's a simple solution. Turn them into modern art by spray painting them white or another block colour.
This will make them look aesthetically pleasing but still tell a unique story.
4. Let Them Eat Cake
One of the tastiest uses for old trophies is to turn them into a cupcake stand. Spray paint the trophy in your chosen shade, then add sturdy cardboard trays. Voilà, you have a homemade cake stand.
5. Drinks All Round
One of the coolest ideas for old trophies is to turn them into a funky wine bottle top. Remove the trophy base, drill holes into the corks of wine bottles and insert the trophy figure. Not only will it make your wine collection look decorative, but it can be a great conversation starter when your mates come round for a drink.
6. 'Tis the Season
A festive way to repurpose trophies is to transform them into Christmas tree ornaments. Remove the base and use a ribbon or wire to tie them onto your tree. You can even spray paint or decorate them with a bit of sparkle for a festive feel.
And because each "ornament" will have a story behind it, you can hand them down to the next generation!
7. Donate Them
At the end of the day, if you really can't hold onto your old trophies any longer, you can donate them to a good cause. And while they're made from recyclable materials, they actually hold more value as a trophy.
There are many charities and non-profit organizations who refurbish trophies. For example, some competitors in charity sports events win refurbished old trophies and medals instead of brand new ones.
Now You Know What to Do with Old Trophies
So don't just throw your old trophies in the rubbish. Repurpose trophies and give them a new lease on life!
Now that you know what to do with old trophies, you may wonder what to do with old medals? Find out here!